AXIOM is a Full-Service Armored Car Company
AXIOM is what is referred to in our industry as a full-service armored car company. What does that mean? We are more than just a money truck company. We transport money, retail items, plane side, port access, cash & check, coin, precious metals, pharmaceuticals, governmental ballots, and any other valuable items for you across land, sea, or air. Our fleet of armored vehicles is operated by reliable and highly-trained security guards and personnel. When you choose AXIOM's armored transport services, you can rest safely in the knowledge that your money and valuables will arrive safely and on schedule.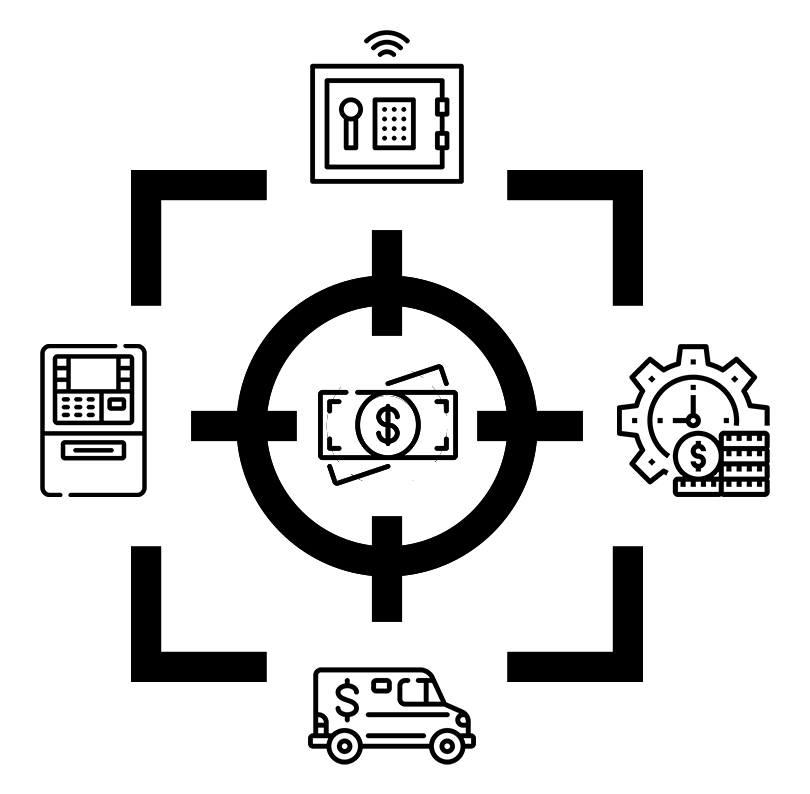 services offered by axiom armored
Our armored trucks are driven and operated by highly-trained, expert security personnel. When you choose AXIOM, you can be positive and confident that your money and items will be safe and secure. We offer several different services to help you run your business more safely, securely, and better. Learn more about each of the first-class services offered by AXIOM:
CASH VAULT SERVICES
AXIOM offers a full suite of vaulting services including currency and coin processing, with full deposit visibility and robust reporting. Using state of the art processing equipment and software AXIOM's vault services can scale to any size business.
SMART SAFE & RECYCLER
The AxisCash Smart Safe & Recyler combine technology and security to create our self service device solutions. Utilizing state of the art equipment and software that provide customers with the security, visibility and fund availability needed for the modern cash environment.
CASH LOGISTICS
Axiom provides cash logistics services for everyone from small businesses to multi-store franchises. We safely handle your money for you, so you don't have to worry about it. Our vault personnel takes your store deposits, verifies them, and packages them for the financial institution of your choice with next business day delivery. 
ATM
Axiom provides full ATM services and project management for large national banks, regional banks, credit unions, and ISOs. We provide full-service cash and maintenance and keep your ATMs running – every day of the year.
ARMORED TRANSPORT
AXIOM is a full-service armored car car company. We move valuables including money, coins, precious metals, pharmaceuticals, government ballots, and more across the land, sea, and air. For more about our Armored Transportation services, please see our Armored Transport page.

Envoy is our white glove Sensitive Item Shipping.  We have exclusive dock and plane side access to several airport and seaport access points. You have several choices when it comes to how we transport your valuables. AXIOM offers a wide range of services, including but not limited to the secure transportation of the liabilities below:




Items Transported by Our Envoy Service
CASH
COINS
PHARMACEUTICALS
PRECIOUS METALS 
DOCUMENTS
CREDIT CARDS
Our fleet has also grown from just one armored vehicle to a fleet of more than 20 armored trucks. As of this time, we operate out of nine strategically placed cash vaults. We have the equipment necessary to transport your cash and valuables securely. 
What Areas Does AXIOM Armored Transport Serve? 
Our company services the west coast, from as far north as Alaska down to Washington and southern California. We've added Arizona, Florida, Colorado and Wyoming to our ever expanding services areas. Wherever you are located, we would love to serve you.
AXIOM STYLE!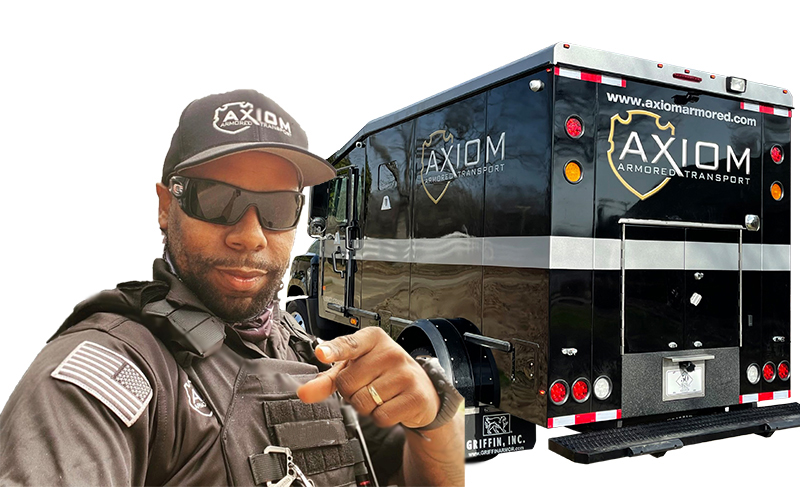 Benefits of Armored Car Services
Even in the digital world we live in today, it is oftentimes still necessary to move cash and valuables around the country or even the world. AXIOM provides safe and secure armored transportation services on your schedule. 
There are several benefits to utilizing the services of an armored car company: 
You have the peace of mind that comes with knowing your money is safe and secure. 
You can reduce trips to and from your bank and thus, increase your business's overall productivity. 
You can reduce your liability by not having your staff transport cash for you. 
Who Can Benefit from Armored Transport Services? 
If you are a business owner who needs cash transported from your business to the bank, utilize the services of AXIOM. Our clients include grocery stores, government offices, parking garages, and more. 
Experience
When you are entrusting a company with your cash or valuables, you want to know they are safe. At AXIOM, we have more than 20 years of experience in the armored transport industry. We have been in business (though under a different name) since 1997. 
Insure
Our company is fully insured by the underwriters at Lloyds of London, so you never have to worry when you entrust your cash and valuables to us.
Service
At AXIOM we pride ourselves on our commitment to service. We believe this commitment to service has helped us reach the goals we set when first started our company. Don't take chances when it comes to your cash and valuables. Instead, trust the service necessary to keep your money safe.
Careers at Axiom
Axiom is always looking for dedicated individuals to be our next employees. Please check out our Careers page if you are a security-minded person interested in joining our team

GET STARTED WITH AXIOM ARMORED TRANSPORT
Whether you need cash, valuables, gemstones, or precious works of art transported on the west coast, don't take any unnecessary risks. Instead, choose AXIOM to help you achieve your cash transportation goals, while also ensuring your peace of mind. Take advantage of the best armored truck company in business today. We look forward to working with you!
Call us at 866-761-6712